This is the season to nail it! Yep, it is.
#lespace #beautybar #CountdownToChristmas #fashionholiday
#OctobersCalling
Savor summer with our plan for a sophisticated, stress-free morning soiree. The menu features dishes that can be made the night before—so you can sleep in!—while table-setting tips help create a simple, elegant look.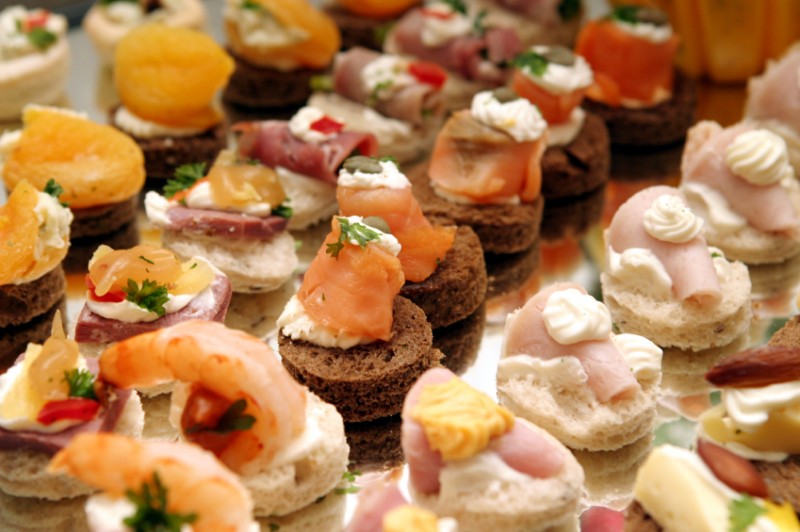 recipe and entertaining tips:
Short on time? Pick up a frozen pie crust for the quiche, and you'll save yourself the trouble of making dough and rolling it out. This quiche is so yummy, no one will know the difference.
If you use a frozen pie shell, disguise the foil tin by placing a ruffled napkin in between the tin and a more decorative pie plate. For effortless oven-to-table serving, make the frittata in an attractive cast-iron pan. An easy way to bump up your table decor is to layer your serving plates, so place the salad bowl on an attractive platter or layer the dessert cups on a favorite tray.
Serving dessert in individual cups or small bowls makes for a pretty presentation and controls portion size. It also means guests can pick up their sweet treats and mingle with others.
Prop styling: Gina Provenzano


Read More http://www.epicurious.com/articlesguides/entertaining/partiesevents/elegant-brunch-menu#ixzz2aSUQYsPt

Champagne taste on a beer budget? Fret not! Our weekly 'Style Steal' feature gives you the best of both worlds! Join us every week for the coolest, 'on-trend' finds under NGN 10 000! Our fashion-loving hearts skip a beat
The Steal: Maju Graphic Print Mini Skirt
The Price:  NGN 4800
Why it's worth it:  Work the season's rebel chic trend in this mini skirt, wear this runway worthy piece with a printed sweatshirt by day or a camisole for evening.
Email: communications@lpmnigeria.com
1. 

What's your personal philosophy when it comes to healthy hair?
Retention is better than cure – be it for length or body, your hair is always right! Pay attention and give it what it needs, not what you want.  
2. How important is it to have an overall healthy lifestyle?
The body functions with its own essential level of stasis. Eat the right things and you can boost your body's natural SPF. Drink enough water and your organs function better. Exercise right and not only should you (eventually) feel better for it but the telltale signs will blow your trumpet for you. You can't want to look good on the outside and neglect the important level of happiness needed on the inside. Your body works when you have unity.
First of all, 

regimens are not for everybody

 and for those who choose to do it, your focus must be clear. If you want length and use a lot of heat as part of your daily styling process, your hair product cabinet may differ drastically from someone who just wants to maintain a full head of pixie crop hair.
My hair and scalp for example are not extension friendly. At the first sight of synthetic or human hair, be it for braids or gone-with-the-wind-fabulous weaves, you can trust my hair to fall out in clumps, break and recede all at once. I had gone out of my way to ignore this known issue with my hair but in February 2013 after I had get yet another rescue trim, I decided the time had come to put down the 
blow-drier
, give away my weaves, straightners and products with sulfates, cones and serums that are often needed when heat styling. Taking that action has meant that even though I now opt to mostly 
air dry
 my hair (old school roller setting with a temperature controlled hooded drier is still a styling tool for me), I try to limit 
damage
 caused by air drying through the inclusion of ceramides in each step of my regimen.  
I recently updated the regimen I adopted in February to now include an ideology: 
if I can't potentially eat it, I don't need it in/on my hair & scalp. 
That is not to say that I don't use synthetic products at all because as you may know, good ol protein from chicken eggs for example are 
too large to penetrate your hair
 shaft. For a real protein treatment, you need hydrolyzed or quanternized protein which lucky for me, Elucence has.  
When it comes to protein, I try not to argue with the scientists so, in addition to Elucence; I have the Affirm 5 in 1 (reconstroctor), Aubrey Organics (light protein treatment) and Roux Porosity Control in my cabinet their use i.e Affirm & Roux  has been repurposed for relaxer top-up days as I opt to tea & vinegar rinse my hair regularly now. More on that later. 
My point right now though is that as much as I plan to use products that 
nature provided
 (coconut milk, carrier oils, fruit, herbs, seeds & spices), my hair is relaxed and that is not as nature intended so, I'm going to need to leave some products to 
scientists
 to formulate for me. I compromise by using organic products like  - Aubrey Organics and Giovanni, so help me curbing my need to try some soy sauce in my hair. 
With that said, my new regimen which I kicked off in August 2013 is a personalised version of 
Real Queens 
Green-House Effect Regimen and it goes like this:
Tuesday
 Night* (if washday falls on a 
Wednesday
)
Prepoo with 
Liquid Gold

 on my scalp

Lightly apply my 

moisture spritz

 to dry hair
Proceed to 

strand ceremony

 with my home blend** of carrier and essential oils I purchased from Kinky Apothecary at L'Espace 
Slap on this 

shiny

 bad boy, tie a scarf over it, add a knitted wooly cap for 

extra sexiness

 and go to bed.
*some days I opt to prepoo 
with heat 
for an hour and trot straight on to wash my hair per below*
*if wash day falls on a 

Wednesday

, I just shift things along accordingly. Same process, just different day*
**I always ensure that my oil blend has a ceramide present. My go to is Hemp Seed Oil because it is a known ceramide and also has 60% lioneic acid present. I often include Coconut Oil because it comes with many benefits especially when used as a preepoo treatment.**
Other oils I pre-poo with include: Palm Oil (10* lioneic acid)), Extra Virgin Avocado Oil, Extra Virgin Olive Oil and I seal with Kinky Apothecary's whipped Shea Butter (it contains a lot of goodies including castor oil) and Sweet Almond Oil.  
Wash Day! This is where things get a bit different between my old and new regimen. I have been practicing the no poo wash for a few years now but this is the first time that I absolutely mean no poo. Where before I used conditioners to "wash" my hair, now I'm dabbling into the 
pH Balanced Poo
 pond. My process:
"wash" with 

this

 recipe using 

coconut milk

  aloe vera juice/gel, carrier oil (ceramide), essential oil and occasionally, a tea spoon of vegetable glycerine. Alternatively, I wash with Elucence Moisture Balancing Conditioner too. 
tea rinse - follow the links for Jeni's tip on how to, 

benefits

 and 

tea

 

options

. I buy my 

Bobeam

 hair tea from Kinky Apothecary. I sometimes add fresh herbs from my kitchen/fridge to the brewing tea (black tea, mint, basil, lemongrass -thanks to that grocery store on Idowu Martins). Per Jeni's method, I pour the tea on my hair, catch it with another bowl and repeat the process until I'm all out of the measure OR I put the tea in a spray bottle, spritz away at every strand I can get at, I then let it air dry a little before moving on to the next stage which is
deep condition 

with

 honey and olive or coconut oil + hemp seed oil for 30 minutes with or without 

heat

.
I finish the wash process as I begun - with pH balance in mind. This time though, I reach for 

Apple Cider Vinegar

 as my final hair rinse. Nadege reported the benefits of using 

Coconut Vinegar

 and I'm hoping that too will be stocked at L'Espace soon. 
wrap my hair with a cotton shirt for about 15 minutes then proceed to 

L.O.C.O

. My staples: 
(L):

 

homemade

 version of the 

MSM

 moisture spritz (most people notice more growth when taking MSM as a supplement but because I already take Vitamin C, 2,000mg 

Evening Primrose Oil

 daily to help with my cramps, 

Garlic Oil

 and alternate between 

Hairfinity

 and 

GNC Ultranourish-Hair

, supplements, I choose to apply MSM topically)     
(O):

 

Carrier oil blend – at this stage, I focus on oils that function as excellent carrier oils, are known ceramides, are light and provide natural sun protection factors (SPF) too. See table below for oils I've come across with known SPF:
* Roman Chamomile and Helichrysum essential oils are also said to contain sun protection factors. 
I either 
air dry with a silk scarf
 on it 
like so
  like so or air dry with 
bendy rollers
 if I want 
curls
 the 
next
 day. I do not use any 
additional
 items mentioned in these videos. I do have a tub of Eco Styler Gel though which you can get at the Kinky Apothecary stand but I use that (and Aloe Vera gel) for my edges only on days when I'm on set and need to get a clea up do. 
Prepoo with 
Hair Trigger

 on my scalp and as before,
Proceed to 

strand ceremony

 with my home blend of carrier and essential oils 
Slap on this 

shiny

 bad boy or a showercap, tie a scarf over it, add a knitted wooly cap for 

extra sexiness

 and go to bed.
Wash Day! The process is pretty much the same except that this is the day that I do my special care treatments such as protein, hibiscus and henna (available at Kinky Apothecary). So, I :
Apply treatment to dry hair first. This could be hibiscus and henna mask, AOHR, AOGPB, banana, coconut milk, avocado & molasses treament (I once added soy sauce to this one). I let it sit for 2-3 hours without heat or 1hr with heat then
tea rinse as before
deep condition 

with

 honey and olive or coconut oil + hemp seed oil for 30 minutes with or without 

heat

.
ACV rinse
L.O.C.O, air dry or style as the mood or level of tiredness determines.
*When my hair is in cornrows, I follow the same wash twice a week routine except I use the TZ445 (also sold at L'Espace) liberally on my scalp during installation. Other than prepoo and installation days, I stick to Real Queens recommendation of not applying oils to your scalp. I relly on her method of greenhouse effect to encourage my natural oils to do its thing. 
4. Any tips you'd like to share?
I find hair forums helpful when I need a quick survey to decide which products to change such as my pending Affirm Fibreguard (lye) vs Elucence relaxer (lye) decision. As I'm transitioning to fully texlaxed hair, I want to get the best relaxer with my hair's pH needs in mind and general survey is great but sometimes, of particular use are blogs like The Natural Haven, Swift Craft Monkey, Science-y Hair Blog, Chemist Corner, Colin's Beauty Pages and The Beauty Brains because they speak to the cosmetic chemist in me and help me make informed decisions on all my cosmetic products. Just take a look at this 
pH list of conditioners
 for example. 
A few of the longs list of blogs I frequent:
5. Hair hero?
Nibi Lawson of Kinky Apothecary
Jeni of Just Grow Already
Nadege of Relax Hair Health
Angela Simmons
I am Oreka Godis, my hair is partly relaxed, partly texlaxed. I am transitioning to fully healthy looking texlaxed head of hair. I love oils, I love Elucence Moisture Balancing Conditioner – I use it for pre poo, cowash, hair mask mixes, leave in conditioner, I all but drink it! 
I love Kinky Apothecary, I love L'Espace. 
Repurposed products from my previous regimen: 
Roux Porosity Control
Affirm
AOHR
*I used to use Dr Bronner's Castile Soap (purchased from the Kinky Apothecary counter at L'Espace as a clarifying shampoo. I still have this and use it in a recipe similar to 
this
 on days when only a clarifying shampoo will do. I also chelate with Aubrey Organics Swimmers Shampoo when required.
Champagne taste on a beer budget? Fret not! Our weekly 'Style Steal' feature gives you the best of both worlds! Join us every week for the coolest, 'on-trend' finds under NGN 10 000! Our fashion-loving hearts skip a beat
The Steal: Toju Foyeh Print trousers
The Price:  NGN 7 900
Why it's worth it:  Super comfy and easy to dress up or down! Wear with flats for a casual vibe or dress up with heels and punchy accessories for a night out!
Email: communications@lpmnigeria.com
[NEW YORK, NY] With a successful career as model as her foundation, Nigerian born Aina Fadina has her sights set on many other creative avenues. Her most recent venture is the documentary-style web series Iofafrica, that she launched in early 2013. As the web series' creator, Fadina visits and interviews African cultural entrepreneurs (music producers, fashion designers, actresses and musicians) who are based in New York City. She explains that IofAfrica "is about showcasing the diversity of what Africa is [as well as] the different layers and textures of who Africans are. It's basically telling the global African story."  Throughout the web series, she plans on "covering topics that influence the image of what African is, what African cultures are, the influence the continent has from a global perspective, and the evolution of these things."  Africa Models Daily spoke with Fadina to get the scoop about her life as a model and Iofafrica.
AFRICA MODELS DAILY: People may not know, but you are a noted fit model here in New York City. Can you tell us a little bit about that part of your life?
AINA FADINA: [Laughs] This is true. I'm a fashion and commercial model in New York City.  I've done everything from fashion shows, presentations, showroom, e-commerce, TV commercial, and print work. Most of my work is being an in-house model for a number of brands like Versace, Akris, Akris Punto, Armani, Oscar De La Renta, Alexander McQueen, and McQ. As a model, I have gained an immense knowledge about the fashion industry from a creative and business perspective. Basically, I see the journey from sketch until it gets into the hands of the consumer season after season. In addition to working with luxury labels, I've worked with designers of African descent such as Duro Olowu, Tsemaye Binitie, Mimi Plange, and Omer Assim.
Read the full interview here
Credit: Africa Style Daily